Did you know there are almost 2 million global monthly searches for the word 'Selfie', on Google search engine alone? But before we discuss selfie domain names for sale, let us first look into the history of the word and some background info.
SELFIE DEFINITION (Meaning)
selfie noun, informal
(also selfy; plural selfies)
Selfie is defined by Oxford Dictionary as a photograph that one has taken of oneself, typically one taken with a smartphone or webcam and uploaded to a social media website.
Late last year, 'selfie' became Oxford Dictionary's Word of the Year. Historically, the term was reportedly coined by an Australian man who calls himself 'Hopey' in a September 2002 Forum post. He basically posted a self-portrait after a drunken night.
Some interesting (historical) things to note about Selfies
Earlier this 2014 year, Twitter announced January 22nd as Museum Selfie Day (#MuseumSelfie hashtag), a Twitter project aimed at raising awareness of the great collections being housed by national and regional museums across the globe.
Also, Under Armour, created a new clothing line inspired by gym selfies.
Star Wars also launched its official Instagram account with a Darth Vader selfie that went viral on social media.
Interestingly, one of the emerging trends in the web of social media today is #SexSelfies or #After-SexSelfies. Google currently reports over 18,000 global monthly searches for 'Sex Selfies', a growing trend. Searching for selfies on Twitter will eventually land you in one of such trends.
Saving the best for the last (sort of), is the emerging trend of selfie toys, arguably pioneered by one Campos Wellington (@CamposWell on Instagram and Twitter), a marketer based in Brazil and known for popularizing Woody, a toy character from Disney's Toy Story. CamposWell, who appears to be affiliated with some popular brands and celebrities, is the man behind the many selfie toy photos of Woody and other toy characters.
See some selfie toy photos below courtesy @Camposwell: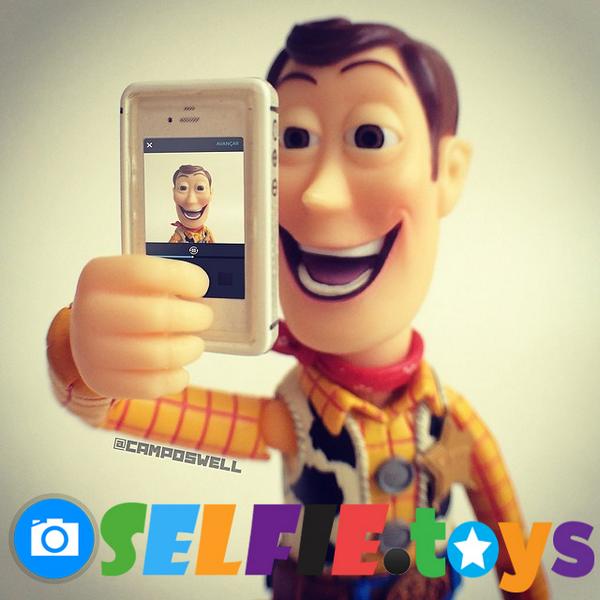 Further more, LEGO (Legoland Manchester) earlier this 2014 year released a toy version of the viral Oscar Selfie consisting Jared Leto, Jennifer Lawrence, Channing Tatum, Meryl Streep, Julia Roberts, Ellen Degeneres, Kevin Spacey, Bradley Cooper, Brad Pitt, Lupita Nyong'O, Peter N'yongO and Angelina Jolie. See the selfie toys version in the photo below.
Finally, we'd like to mention few selfie-related premium domain names for sale, that were recently acquired by IGWE Domain Holdings. If you are reading this and have selfie domain names you too would like to mention, feel free to include them in the comment section.
Selfie.toys (The domain name is suitable for toy manufacturers, marketers and retailers)
SelfieDigitalCamera.com (50 global monthly searches for "Selfie Digital Camera" on Google alone / Competition: Medium). Domain name is suitable for retailers like Amazon, Walmart, Best Buy, Target, etc.
SelfieCameraHolder.com (260 global monthly searches for "Selfie Camera Holder" on Google alone / Competition: High). This domain is also suitable for retailers like Amazon, Walmart, Best Buy, Target, etc.
The aforementioned domain names are currently listed for sale on Sedo marketplace with a Buy Now price option, where you can use the 'Search Now' bar to search for and buy these domain names.
If you enjoy reading this post, endeavor to share with people in your social and business circle.
— — —
Blog >>> IGWE Domain Holdings